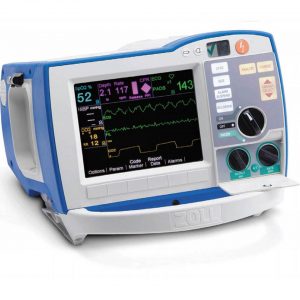 The CHRISTUS Southeast Texas Foundation received a grant from The Hearst Foundations for eight defibrillators for the Emergency Department. A defibrillator is an electrical device that provides a shock to the heart when there is a life-threatening abnormal heart rhythm. The defibrillators are used close to 2,400 times a year, averaging about 200 times per month. Because they are in constant use, upgrading these pieces of equipment was vital.
The Hearst Foundations are national philanthropic resources for organizations and institutions working in the fields of Education, Health, Culture and Social Service. They work to ensure that people of all backgrounds have the opportunity to build healthy, productive and inspiring lives. In operation for over 70 years, The Hearst Foundations have made over 20,000 grants totaling over $1 billion.
The Hearst Foundations have given a total of $250,000 to the CHRISTUS Southeast Texas Foundation. These generous grants enabled us to renovate the CHRISTUS St. Elizabeth Hospital Neonatal Intensive Care Unit and purchase lifesaving equipment for the Center for New Life and the Emergency Department.
The CHRISTUS Southeast Texas Foundation is honored to be a recipient of The Hearst Foundations' continued generosity.