Throughout the ages – to many modern and past societies, and many religions – trees have stood as symbols of life.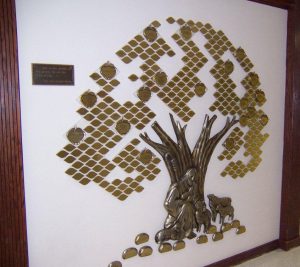 CHRISTUS Southeast Texas St. Elizabeth is committed to life and the healing of mind, body, and soul. As a symbol of our commitment, we have created a unique memorial for our cancer patients, the Tree of Life. Made possible through generous contributions, this project provides an opportunity for family and friends to express their respect, compassion, and love for those with cancer. Groups, organizations, or individuals may also contribute to honor, highlight, commemorate, or memorialize events or people who have been a significant part of their lives. Your gift will be a lasting tribute for a special person or meaningful event.
Donations made to the Tree of Life assist us in purchasing specialized medical equipment needed in the treatment of cancer to ensure that high-quality cancer care remains close to home. Each element on the Tree of Life represents a different level of contribution:
Leaf – $1,000
Apple – $5,000
Stone – $25,000
Together we will continue to provide the care our community needs and deserves. Your message will be engraved according to your wishes. Contributions may be pledged over a five year period. Through your gift, the growth of our Tree of Life will make it possible for you to have a significant and meaningful part in one of man's noblest endeavors – relieving human suffering.
Mailed donations should be made payable to: CHRISTUS Southeast Texas Foundation, 2830 Calder St., Beaumont, TX 77702. For additional information, please call the Foundation office at (409) 236-7555. The CHRISTUS Southeast Texas Foundation is a registered 501(c)(3) organization. Your contribution is tax deductible.
Donate to the Tree of Life: