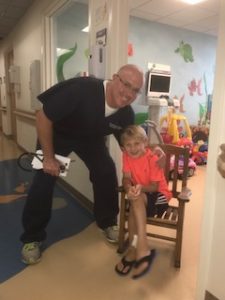 Children's Miracle Network Hospitals in Southeast Texas welcomes families to share what they experienced* while their child (0-18 years old) was treated at one of our hospitals. Each child who comes through our doors benefits from resources funded by local donations to Children's Miracle Network Hospitals. Personal stories from these families help us show our community the direct impact their donations have on children in Southeast Texas.
If your child was a patient or was born at CHRISTUS Southeast Texas St. Elizabeth or Jasper Memorial Hospital, we invite you to share your "Miracle Story." Whether your child suffered from a broken bone, the flu, or another illness or injury, we want to hear about your experience. If you are interested in helping us show our donors the difference their dollar makes, please share your experience by filling out the form below and uploading a signed copy of the consent form.
*Please note that this form is not intended for adult patient experiences and is not the proper channel for filing a complaint or concern. Any complaints or concerns submitted here will not be resolved. CHRISTUS Southeast Texas' guest services and patient advocate programs are designed to assist patients and family members by providing a structured approach to resolving complaints, forwarding suggestions and routing compliments. Visit their website for more information.