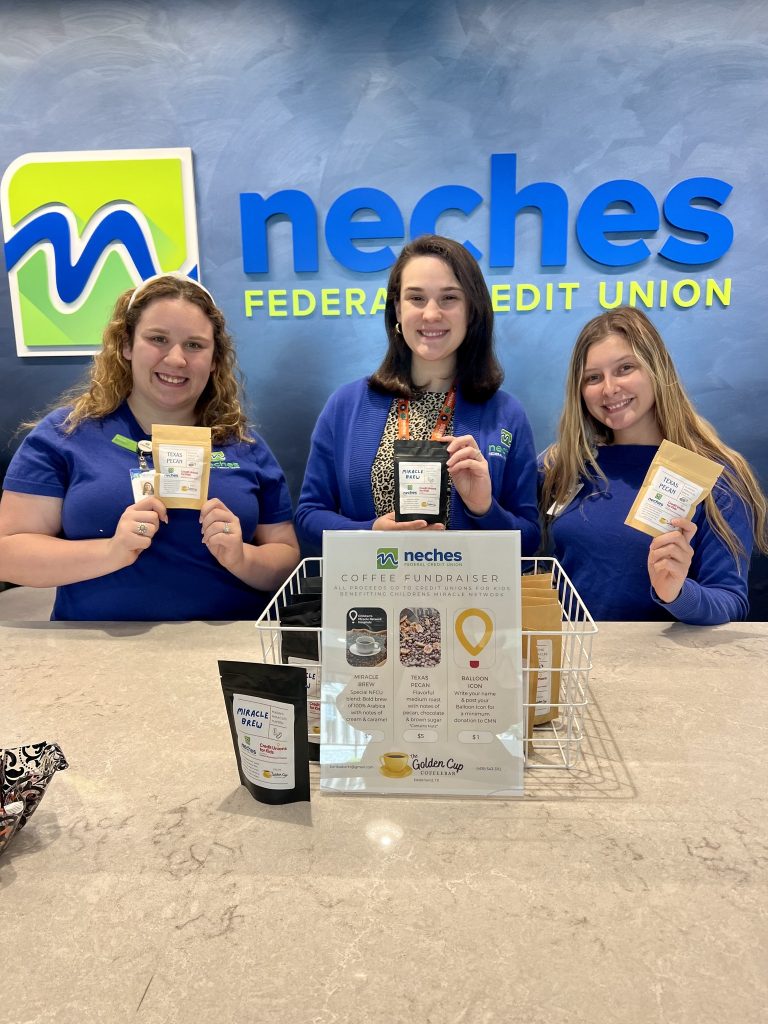 In honor of NICU Awareness Month, we are thrilled to announce Neches Federal Credit Union's latest fundraiser supporting Children's Miracle Network (CMN). Together with The Golden Cup coffee bar in Nederland, they bring you "Miracle Brews – Coffee for the Cause"!
Discover the Golden Cup's exclusive "Miracle Brew" blend, available in convenient 2.5 oz sample-sized bags specially crafted for this event. These ready-to-brew pouches can make a whole pot of coffee or several single cups (compatible with K-cups). Each bag is priced at just $5, and $2 from every sale goes directly to Children's Miracle Network.
For those craving more magic, 1-pound "The Miracle Brew" bags are available for $20 (cash-purchase only) at The Golden Cup, located at 1336 Boston Ave, Nederland.
This year's coffee promotion is a fresh take on fundraising, a collaboration between Megan Hanks, Neches FCU Business & Community Development Supervisor, and Brandon Hammock, publisher of BeLocal Golden Triangle and promoter of The Golden Cup coffee bar.
Megan Hanks shares, "Credit Unions for Kids (CU4Kids) benefitting Children's Miracle Network holds a special place in Neches Federal Credit Union's heart. The funds we raise each year directly support CMN in Southeast Texas, thanks to our dedicated employees and members."
Neches has supported CU4Kids since 1996, turning it into an annual fundraiser at all our branches. For over 25 years, they have been raising awareness about the challenges faced by newborn families using NICU facilities and collecting funds for CHRISTUS of Southeast Texas, the local network partner for CMN. In 2023, Neches FCU raised nearly $12,000 through the Miracle Balloon campaign and fundraising merchandise sales like candy bars, baked goods, and popcorn.
Caralee Thompson, Program Manager for CMN at CHRISTUS Southeast Texas Foundation, expresses her excitement, "We are so thrilled that Neches FCU and The Golden Cup have joined forces to create Miracle Brew coffee for the benefit of Children's Miracle Network at CHRISTUS Southeast Texas Health System. CMN has a long-standing partnership with Neches FCU, and their generous annual contributions significantly impact sick kids in Southeast Texas."
Funds raised by credit unions and initiatives like The Miracle Brew stay in Southeast Texas, benefiting all campuses from Port Arthur to Jasper. Megan Hanks adds, "We are delighted to partner with The Golden Cup and BeLocal Magazine to sell coffee at our branches this September, strengthening and promoting local businesses. Raising funds for sick and injured children in Southeast Texas with the help of a small business owner directly aligns with the credit union philosophy – 'People Helping People'."
Brandon Hammock, publisher of BeLocal Golden Triangle and The Golden Cup promoter, encourages community involvement, saying, "We encourage all our business partners & advertisers to get involved with community initiatives. The Golden Cup ownership has repeatedly stepped up to help with nonprofit and charity causes. When I suggested that we sell coffee packets instead of sweets or candy, Janna Bartz, the owner, jumped at the idea."
The Golden Cup owner, Janna Bartz, is deeply involved in community-centered efforts, including The Rotary Club of Nederland and her church. She hopes that people will see the great work that Children's Miracle Network does and contribute to the fund, even if they don't buy any coffee.
"The Miracle Brew" Coffee Fundraiser aims to raise over $7,000 in September. For more information, visit the Neches FCU website at www.nechesFCU.org or search on social media @nechesFCU. To learn more about The Golden Cup coffee bar, search @TheGoldenCupCoffeebar
Let's brew up some miracles together!