Tommy Frank, President of The CHRISTUS Southeast Texas Foundation Board, is a man who is comfortable in leadership roles. He worked for Conn's for fifty years, rising through the ranks to become the Chairman and CEO in 1994, all the while expanding Conn's market and growing its sales volume to levels it had never before reached.
Tommy is currently serving his third term on the CHRISTUS Southeast Texas Foundation Board. His commitment to the CHRISTUS mission of extending the healing ministry of Jesus Christ is clear through his involvement with the board and his continued participation with the annual gala.
I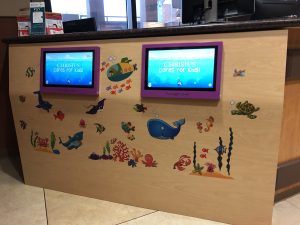 n addition to his impressive professional career, Tommy also is also an accomplished woodworker. He recently offered his carpentry skills to help create a wooden frame to house a Touch2Play – a piece of interactive entertainment for children – in the St. Elizabeth Emergency Department waiting room.
"Tommy is a true leader. In addition to his role as Board President, he offered his carpentry talents to build a storage unit for new pieces of equipment in the emergency department. We truly value him as a board member and as a CHRISTUS supporter," said Ivy Pate, Foundation President.